website under construction for
The Wellesley Town Band
"An authentic all-American town band".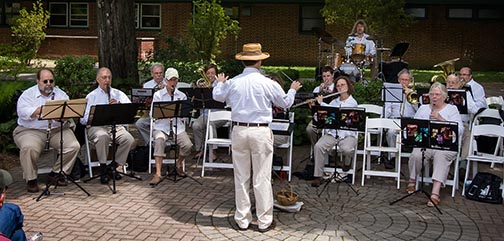 The Wellesley Town Band performing at MassHort's Spring Gardeners' Fair
at Elm Bank, Spring 2014.
If you have ever played a brass, woodwind, or percussion instrument, there's a chair, music, a music stand, and a warm welcome waiting for you in the Wellesley Town Band! Players of all ages (Grade 8 upwards) and musical abilities are welcome, no auditions are required. The Band has a real family feel with spouses, and parents and students, all playing together. Now starting its fourth season, the Band is led by legendary Wellesley schools band director Henry Platt. Rehearsals are held in the High School band room on Mondays 7-8:30 pm from September through mid-June (excluding school holidays). There is always a friendly, supportive, and enjoyable atmosphere of making music together. The repertoire is traditional concert band fare: light classics, favorite show tunes, and stirring marches.
Besides the ever popular Winter Concert in December, the Band performs outdoors for MassHort's Gardeners' Fair at Elm Bank, Wellesley's Wonderful Weekend concert and fireworks, and the Summertime Concert series at Town Hall.
The Band is supported by a membership fee of $150 for thirty-one 90-minute rehearsals and four concert performances. Please Note: Anyone interested in joining the band is encouraged, and welcome, to come along to any rehearsal to try it out. Mid-year registrations are welcome, with a reduced price. For more information, contact 781-235-2370 or info@wellesleytownband.org.